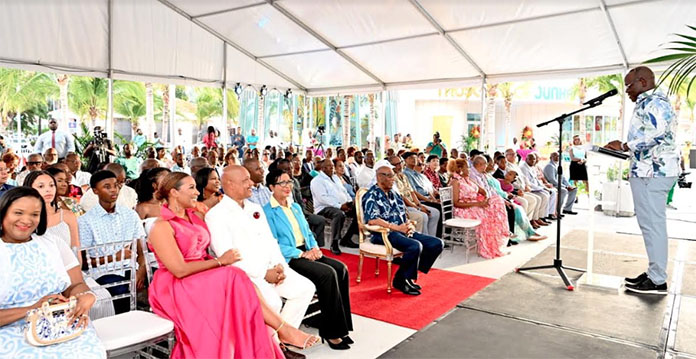 NASSAU, The Bahamas — Acting Prime Minister, the Hon. Chester said The Bahamas Museum of Junkanoo will keep Junkanoo alive in between the Boxing Day and New Year's Day Parades, as well as help to commercialize and monetize Junkanoo which is a huge part of the country's cultural identity.
"Junkanoo of course is a truly spectacular event that never fails to amaze.  It is one of our favourite pastimes that we all recognize.  We have included it in all of our major events whether it is a Christening, funeral, party, graduation, holiday or homecoming," the Acting Prime Minister said during the Grand Opening of the museum at the Nassau Cruise Port, Wednesday, July 5, 2023.
He explained that the museum is truly world class and he is very excited about the significant possibilities, and what it will do to drive more organizations in celebration of Junkanoo not just in The Bahamas and Nassau.
The Acting Prime Minister said, "We love Junkanoo and we are proud of it; therefore we must protect, preserve, commemorate and nurture it. Today, we are making significant steps in all of those directions.
"We have a duty to protect it, whether it is the government, individuals, corporate or all who love our country and all who love our culture."
The Acting Prime Minister said he calls what the museum will offer, "edutainment", because he believes that it is not just going to be entertainment, but it is going to be educational as well.
CEO and Director Nassau Cruise Port Ltd. and Chairman, Nassau Container Port, Mike Maura said the Nassau Cruise Port will welcome over 4.2 million cruise visitors in 2023, and it has cruise line confirmations for 4.6 million visitors in 2024.
Mr. Maura also noted that the Nassau Cruise Port is the single largest transit cruise port in the world.
"With millions of visitors arriving in Nassau annually, we wanted to place a special part of our culture and heritage steps away from the busiest tourism gateway in The Bahamas."
He said, "The fact is that visitors to our Bahamas are in search of authentic experiences, and our own Junkanoo Museum will most certainly satisfy that need."
Mr. Maura said guidance was sought from persons with a deep and respected understanding of Junkanoo. They were looking for persons who could speak to Junkanoo's history, meaning, significance and value to the country before embarking on establishing a Junkanoo Museum at the Nassau Cruise Port.
"We were blessed with the support of two cultural icons, Mrs. Arlene Nash-Ferguson and Mr. Percy Vola 'Saxon' Francis."
He added, "As our Junkanoo Museum evolved, we searched for creative, passionate, capable educators and storytellers who would not just produce our concept, but would take it to a completely different level and we were once again blessed."
Also attending the event were Governor General His Excellency the Most Hon. Sir Cornelius A. Smith; Mrs. Ann Marie Davis, wife of Prime Minister the Hon. Philip Davis; Mrs. Cecilia Cooper, wife of the Acting Prime Minister; Former Prime Minister, the Rt. Hon. Hubert Ingraham; Former Prime Minister the Rt. Hon. Perry Christie; Mrs. Rosel and Dr. Beverton Moxey who both played pivotal roles in the establishment of the museum and Ambassador to the United Mexican States Her Excellency Sharon Wilson.