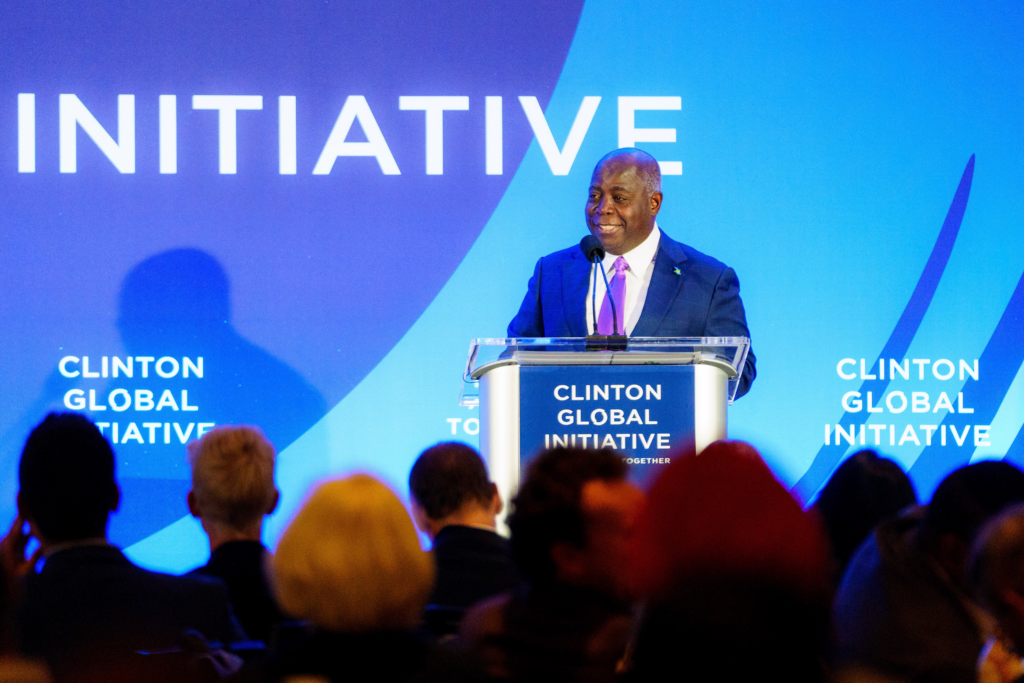 NEW YORK – Prime Minister Davis proudly took to the stage at the Clinton Global Initiative to announce an ambitious new initiative aimed at addressing climate change and its far-reaching impacts on The Bahamas – The Bahamas Sustainable Investment Programme.
Speaking passionately about his childhood on Cat Island and the urgent need for action in response to rising sea levels and hurricanes, Prime Minister Davis shed light on the unique challenges small island nations face in the wake of climate change.
Highlighting the dire financial impacts of four major storms on the Bahamian economy and the added pressure of the nation's middle-income designation, Prime Minister Davis emphasized the urgent need for innovative financial solutions to tackle the climate crisis.
The Bahamas Sustainable Investment Programme stands at the forefront of this effort, aiming to raise $500 million US dollars. Partnering with strategic advisors, Resilience Capital Ventures, the programme seeks to bridge the climate financing gap by tapping into regional and global capital market leaders. The funds will be directed towards crucial areas such as climate-resilient infrastructure, coastal conservation, clean energy transition, and more.
One of the pioneering steps being taken by The Bahamas, as highlighted by Prime Minister Davis, is the mapping of the country's seagrass meadows, which have astonishingly shown potential to absorb carbon at rates equal to or more than the Amazon Rainforest. Through these studies, and with the unexpected assistance of tiger sharks, The Bahamas is poised to become the first nation to issue Blue Carbon Credits.
Inviting all in attendance to collaborate, whether through funding, technical support, or advisory expertise, Prime Minister Davis showcased The Bahamas as a beacon of hope and innovation, demonstrating that even small nations can be at the forefront of global change.
Prime Minister Davis concluded, "My government and the people of The Bahamas are grateful for our partnership with the Clinton Global Initiative and its community of change-makers. We see a path forward for our beautiful nation, and we invite the world to join us on this journey."