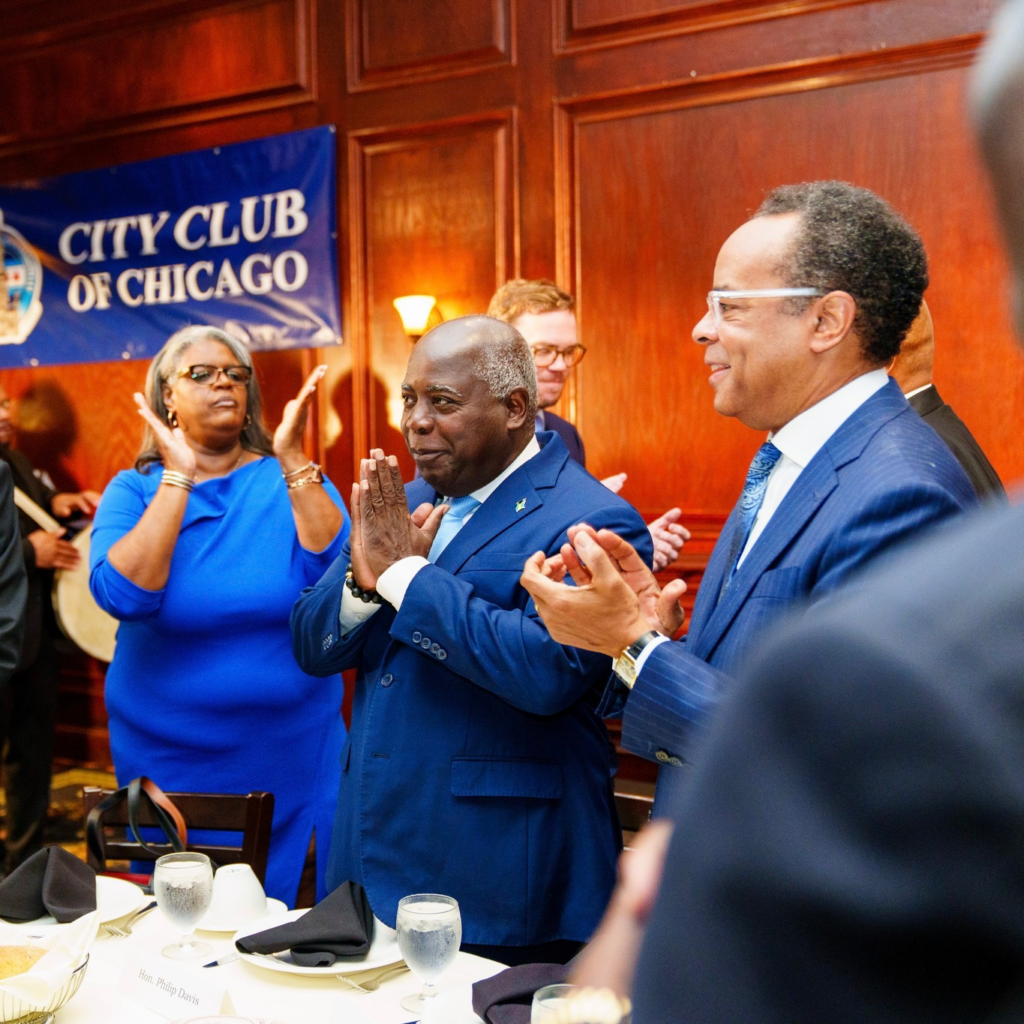 Chicago, IL – Prime Minister Hon. Philip Edward Davis KC MP was in Chicago, Illinois, on Monday, working to deepen ties to city and state leaders and the Obama Foundation to promote investment opportunities in our country's tourism, clean energy, and digital assets sectors; to advocate for action on our country's climate change agenda; and to celebrate 50 years of Independence with Bahamians who reside in Chicago.
In a meeting at City Hall with Mayor Brandon Johnson, a young progressive black leader elected in an upset victory earlier this year, the Prime Minister and the Mayor discussed policies to fight crime and violence, strengthen urban communities, and improve learning recovery in schools after the pandemic.
In a visit to the Obama Foundation, the Prime Minister spoke with senior Foundation executives about the organisation's projects to both provide community support in Chicago and to nurture a new generation of leaders globally. The Prime Minister expressed particular interest in My Brother's Keepers, an initiative to bridge opportunity gaps faced by young black men. The Obama Foundation is a nonprofit organization founded in 2014 by former President Barack Obama and former First Lady Michelle Obama.
At the City Club of Chicago, Prime Minister Davis met with prominent investors to promote opportunities to partner with Bahamians in accelerating the development of diverse sectors of our economy, from tourism to agriculture, from clean energy to digital assets, and more. The Prime Minister positioned The Bahamas as a country that is welcoming to investment, which can advance the country's development.
Prime Minister Davis's day continued with a roundtable conversation on Climate Change held at Loyola University and an interview on National Public Radio focused on climate change. The Prime Minister has become a strong advocate on the global stage for urging the wealthiest nations to do more to halt the carbon emissions which are warming oceans and causing more intense hurricanes. The Prime Minister also urges action on fair climate finance to help small island nations like ours prepare for the new climate era and describes our country's steps to grow stronger, including scaling up our mitigation and adaptation initiatives, working with scientists to map and protect our carbon-absorbing seagrasses, and strengthening our new Youth Guard, in which young Bahamians will work alongside our national security forces to offer communities support before and after storms.
This evening, Prime Minister Davis meets with Emanuel Chris Welch, Speaker of the House of Illinois – the first black Speaker of the Illinois House. Speaker Welch is an accomplished legislator who has led efforts to reform bail, ban assault weapons, and expand vocational education and apprenticeships.
Prime Minister Davis stated, "The City of Chicago gave us a warm welcome. It is wonderful to meet with a new generation of young black leaders who are bringing energy and innovation to public policy. When we share experiences and solutions, we all benefit."The Prime Minister returns to The Bahamas tomorrow morning.