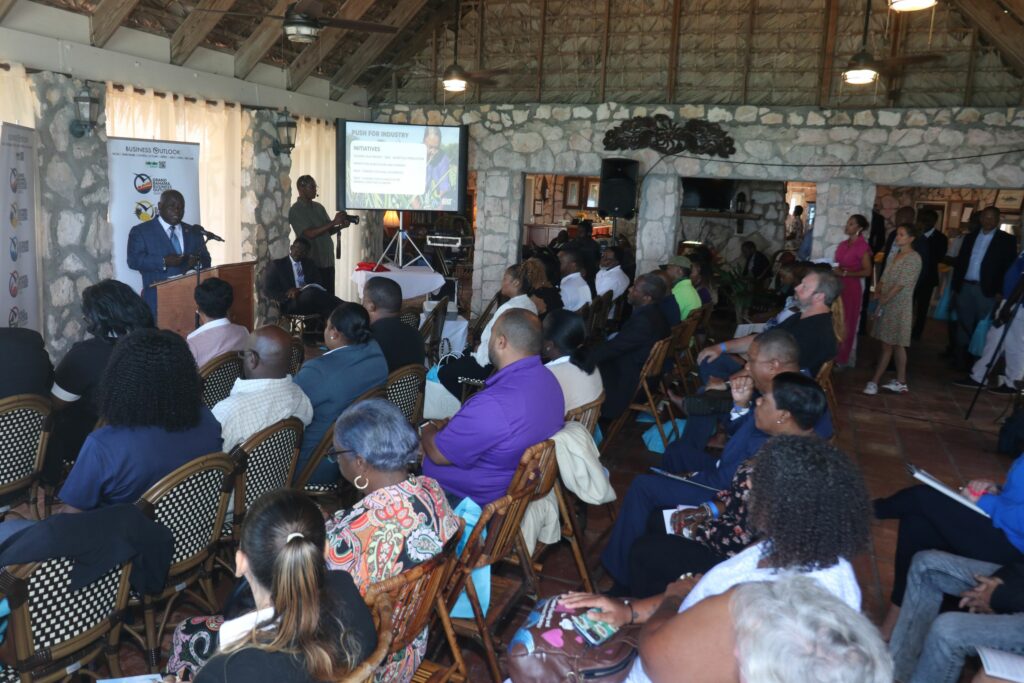 SMITH'S Bay, Cat Island, The Bahamas – Prime Minister and Minister of Finance the Hon. Philip Davis noted population changes, as he spoke about various infrastructure developments on Cat Island, San Salvador and Rum Cay.
"Preliminary results of the 2022 national census put the population of Cat Island at 1,602 — an approximately 5.3 percent increase from the 2010 census year. Conversely, population on San Salvador decreased by just over 12 percent, and decreased by just over 9 percent on Rum Cay," he said, during his Keynote Adress at the Cat Island Business Outlook, on May 18, 2023, held at Fernandez Bay Village, in Smith's Bay, Cat Island.
"Job opportunities and services on New Providence continue to draw Bahamians away from the Family Islands," he added. "A catalyst to arresting this 'urban pull' dynamic, familiar to economists and policy-makers in many contexts, is infrastructure that can improve the quality of life for our Family Islanders and support and encourage new economic activity."
Among those present from Government included Parliamentary Secretary in the Office of the Prime Minister Leon Lundy; Parliamentary Secretary in the Ministry of Works and Utilities Bacchus Rolle; Senior Advisor in the Office of the Prime Minister Kevin Simmons; Deputy Director General, Ministry of Tourism, Investments and Aviation, and Acting Director of Aviation Dr. Kenneth Romer; and the Office of the Spouse's Ann Marie Davis.
Prime Minister Davis noted that adequate infrastructure is essential to facilitating investment both foreign and domestic, and we are making necessary improvements in this regard.
"We broke ground in March on our new multimillion dollar state of the art International Airport at New Bight, and as I previously indicated, the New Bight airport is key to attracting investment, revitalizing old industries, and incentivizing new ones," Prime Minister Davis said.
"Upgrades to the airport at Arthur's Town will include a $10 million runway rehabilitation, a remodeled terminal building, new solar runway lights, an airport beacon, an apron flood lighting system, and a police station adjacent to the airport," he added.
Prime Minister Davis pointed out that a public-private sector partnership will be utilized to carry out 50 miles of road paving, and 90 miles of water installation will be carried out by the Water and Sewerage Corporation, which will result in the provision of potable water throughout Cat Island. He added that public works projects for Cat Island also included road drainage and the installation of a new seawall.
Adequate healthcare infrastructure was critical for quality of life, and was also essential for stable investment, Prime Minister Davis said. Investment in healthcare infrastructure that ensured Family Island clinics were properly equipped was a priority, and his Government was making steady progress, he added.
Prime Minister Davis said: "Contracts have been awarded and contractors mobilized for renovations and repairs to the Old Bight and Orange Creek clinics. In 2016, the Ministry of Works and Urban Development awarded contracts to construct new clinics at Old Bight and Orange Creek. Following the 2017 Elections, these construction projects were suspended."
"Upon our election to office, Cabinet approval was sought and granted to re-engage the contractors to complete work on these clinics," he added.
Financing through the Inter-American Development Bank (IDB) will be utilized to carry out much needed healthcare infrastructure upgrades throughout the Family Islands, Prime Minister Davis noted.
"These upgrades include the construction of a new clinic in Stevenson; the purchase of vehicles for medical, nursing, allied healthcare and support services; and the purchase of ambulances for deployment in Family Islands, including Cat Island and San Salvador, is on the way as well," he said.
"Additional upgrades include the installation of fibre optic connections to clinics throughout The Bahamas; the procurement of digital technology for electronic health records; and procurement of new medical equipment including ultrasound, electrocardiogram and portable x-ray machines, laboratory and dental equipment, and defibrillators," he added.
"Clinics in Cat Island, San Salvador and Rum Cay will receive these upgrades."
Prime Minister Davis noted that a four-classroom extension to the Arthur's Town Comprehensive School will also be constructed to accommodate additional students.
With those upgrades and developments underway for Cat Island, it was his hope that Cat Islanders who have left the island will consider returning home, Prime Minister Davis stated.
"To further encourage Cat Islanders to return, we intend to make Crown Lands available on a lease to own basis, for the construction of a second home – or their first home, once they decide to remain – or other approved developments," he said.
"We have a bank of Crown Lands here on the island, and such an initiative is one I have always promoted," he added. "Now that the Bahamian people have enabled me to make this happen, I will do so."
Speaking of infrastructure work on San Salvador, Prime Minister Davis said that his Government we will construct a new administration building to replace the previous building destroyed by fire in 2020.
"As was the case here in Cat Island, contracts awarded in 2016 for the completion of the United Estates Clinic in San Salvador and a new clinic on Rum Cay were suspended by the previous administration," he related. "Cabinet has approved the re-engagement of contractors for these projects, and mobilization is expected shortly."
"The Ministry of Health and Wellness carried out work to strengthen healthcare services on San Salvador, with targeted renovations undertaken to the Cockburn Town Clinic including the installation of a new portable x-ray machine," Prime Minister Davis noted. "The Nurses' residence was also renovated.
"Additional completed upgrades to the Cockburn Town Clinic included building renovations, a redesign of the workspace, and an upgrade of the air conditioning system for negative air pressure and triage."
Prime Minister Davis stated that, to further bolster economic and social development, his Government intended to introduce a housing program on San Salvador in the upcoming fiscal year, and it was, at that time, identifying funding for that program.
"There can be no lasting growth without the educational development of our youth," Prime Minister Davis continued. "We have completed work on the San Salvador Primary School, and construction on the San Salvador Comprehensive School is slated to begin in the upcoming fiscal year."
"On Rum Cay, we will build a new administration building," he added. "Additionally, plans have already been drawn for a proper airport terminal for Rum Cay, which will be a replica of the terminal in Ragged Island."