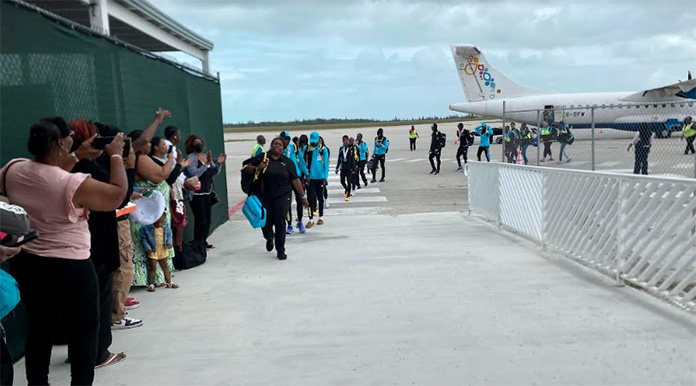 GRAND BAHAMA, The Bahamas – Grand Bahama athletes who participated in the 50th Caribbean Free Trade Association (CARIFTA) Games over the weekend returned home to a hero's welcome Monday, April 11th, with family members and well-wishers gathered at the Grand Bahama International Airport cheering them on and the sounds of Junkanoo.
With the Aquatics Championships held in Curacao and the track and field events held simultaneously in New Providence at the Thomas A. Robinson National Stadium, Team Bahamas put on an impressive showing.
This year was the ninth time The Bahamas has hosted CARIFTA which attracted an estimated 600 athletes from throughout the Caribbean.
The games, which comprises two age categories — under-10 and under-17 —consists of track and field events, inclusive of sprint, hurdles, middle distance track, jumping, throwing and relays.
Senator James Turner, who was one of the first to greet the contingent on their return, was especially impressed with their performance and excited to welcome them back.
"I feel like a groom waiting for his bride because the way they performed was fantastic. We are very pleased with them," he said.
Senator Kirkland Russell, Deputy Director of Urban Development, was elated to witness the advancement of sports in The Bahamas and to see the dedication, commitment and pride on the faces of so many young Bahamians' faces as they represented their country.
Sophia Higgs, Assistant Manager, expressed pride and gratitude to Team Bahamas for the work they have done to hone their skills and the sacrifices they have made.
"We feel very, very accomplished and we know that great things are in store for us," she said.
The 2023 Bahamas Carifta swim team pulled off its fifth-consecutive win in Curacao, scoring a record-breaking 1,113 points.
Karen Johnson, one of the Team Bahamas chaperones, was ecstatic over the fact that the athletes secured 85 medals, 35 of which were gold, and was pleased with The Bahamas Swimming Federation.
"For the first time ever in CARIFTA history a team has scored more than 1,000 and we exceeded," she said, adding that the goal is for a six-peat.
Minister of Youth, Sports and Culture, the Hon. Mario Bowleg, announced at a special welcome home reception for the 2023 Bahamas CARIFTA Swim Team on Monday, April 10th that Grand Bahama will get an Olympic-sized pool by 2024.
He also announced that when the 2024 CARIFTA Aquatics Championships are held in New Providence next year, Team Bahamas will be swimming in a brand new facility.