Freeport, Grand Bahama - Minister of State for Finance and for Grand Bahama in the Office of the Prime Minister, Senator the Hon. Kwasi Thompson said everything Grand Bahamians have gone through – this year and in years past – have all helped to make Grand Bahamians stronger, wiser and better than before.
"I give God thanks for the challenges that we faced, I give him thanks for the mountains that we have overcome, because it has made us stronger than we were and it has made us a better nation and a better country," said Minister Thompson.
"So let us be a nation of people who praise, a nation of people who pray, rather than a nation of complainers."
Minister Thompson's remarks came during the Flag Raising ceremony in celebration of the Bahamas' 48th Anniversary of Independence, which was held on Friday, July 9, 2021, at the Harold DeGregory Complex in Freeport, Grand Bahama.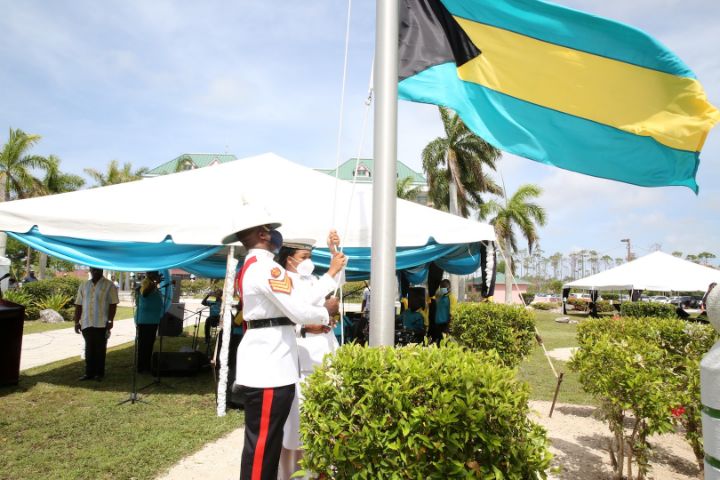 RAISING THE BAHAMIAN FLAG – Representatives of the Royal Bahamas Police Force and the Royal Bahamas Defence Force raise the Bahamian Flag during the annual Flag Raising ceremony, July 9, 2021 on the grounds of the Harold DeGregory Complex in Freeport. (BIS Photo/Lisa Davis)
Under the theme, A celebration of life, revive us again, Minister Thompson said there could be no more suitable theme for this year's celebrations, as Grand Bahamians celebrate being revived from the devastation of Hurricane Dorian and the scourge of COVID-19.
He noted that because of the pandemic, Independence celebrations have not been the same, but encouraged Bahamians everywhere to continue to show Bahamian pride by decorating, displaying Bahamian culture and even continuing to host virtual celebrations.
"Since Independence of last year, we have seen some relaxation of the curfews and there is more economic activity on the island," said Minister Thompson. "There is hope and optimism, not just on the island of Grand Bahama, but throughout this country.
"For me, it is a privilege to serve this country and a privilege to serve the people of Grand Bahama. We also must remember that there is more that unites us than what divides us. We are stronger together than we are apart."
 

ENCOURAGING BAHAMIAN UNITY – Minister of Agriculture and Marine Resources, the Hon. Michael Pintard, during the 48th Anniversary of Independence Flag Raising ceremony on Friday, July 9, 2021. (BIS Photo/Lisa Davis)
Also bringing remarks during the Flag Raising ceremony in Freeport was Minister of Agriculture and Marine Resources, the Hon. Michael Pintard, who noted the event was an opportunity to redouble the efforts and make a renewed commitment to nation building.
Minister Pintard spoke of the time when he was away attending college, how he could not imagine not returning to the country he loved to make a contribution to helping to build The Bahamas.
"But today, there are many of our children who are leaving and considering not returning home," Minister Pintard pointed out. "So, a part of our mission on this day is to revive in them a patriotism and love for this country, so that they can see no other place more important to build than the Commonwealth of The Bahamas.
"That they can see, whether they come back physically, or they remain where they are, that they are contributors to building this incredible country. It is this revival that I'm praying for and that I'm working towards every single day."
Minister Pintard reflected on some of the stories he heard from survivors of Hurricane Dorian and he noted that in all of those stories, survivors said what kept them holding on was knowing that they could rebuild once they survived.
He said even now there are many Bahamian families in Grand Bahama and Abaco who in the aftermath of Dorian are rebuilding their homes and their businesses.
"So, today, I am encouraging all of us not to listen to those who are saying that things are bad, but we should listen to the word of God which says that if we speak life over Grand Bahama, things will get better," said Minister Pintard.
"But more importantly, if we work together as Bahamians, we will make things better in Grand Bahama and throughout the Commonwealth of The Bahamas. Today I am optimistic about the future. We believe that if God has brought us this far, he will take us further. We believe that if we turn to each other, instead of on each other, we can build a powerful nation."