New Providence, Bahamas – Principal of the Sybil Strachan School, Ricardo Rolle is in high spirits following the receipt of thousands of dollars of sporting gear won in the 2019 Scotiabank Concacaf Next Play soccer tournament.
While normal operations have been affected by COVID-19, Rolle is optimistic that the schools' sporting endeavours will be bolstered when competitive soccer resumes.
On December 18 the school was officially presented with several pieces of sporting gear including new jerseys, boots, balls and other items valued over $9,000 USD.
"I want to thank Scotiabank for presenting us with these prizes and this wonderful opportunity," said Rolle. On behalf of the school, he expressed excitement and high anticipation for the continuation of the schools' sporting programme which has won them numerous accolades.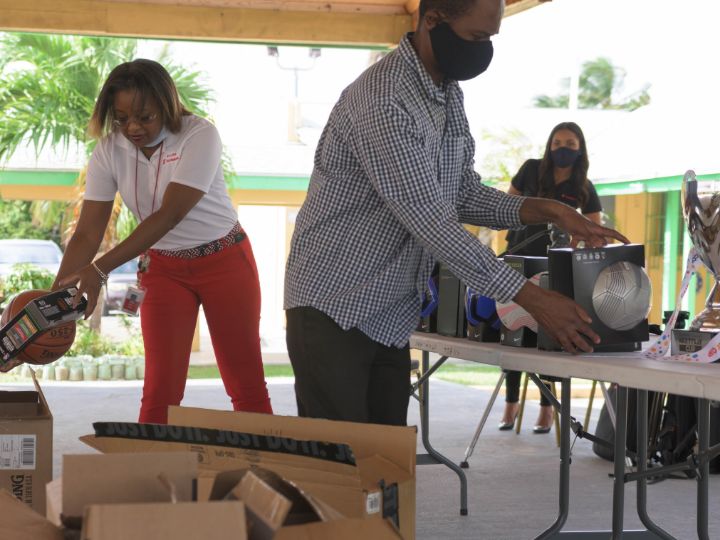 Stoute (left) assists Principal of the Sybil Strachan Primary School, Ricardo Rolle to unpack boxes of sporting goods secured by the school for its football programme.
Allison Stoute, Managing Director & District Treasurer, Scotiabank – Caribbean North, also expressed satisfaction with the Bank's contribution to the development of the school.
"Part of our core commitment is to support young people and to help them achieve their infinite potential. Initiatives like Scotiabank Next Play develops good sportsmanship and cultivates the core values needed for life skills," Stoute said.
The Scotiabank Concacaf Next Play Cup is a primary school initiative which uses football as a vehicle to make a positive impact on children's lives in the Bahamas, Barbados, Jamaica and Trinidad and Tobago.
It aims, not only to expose the boys and girls to the game, but also targets the wholesome development of the children through the primary school system in the participating countries.