FREEPORT, Grand Bahama -- "Grand Bahama is still poised for take-off," said Prime Minister of the Bahamas, the Most Hon. Dr. Hubert Minnis.  "Once one business is successful, we know that it tend to attract other businesses and we are confident that once the ITM and Royal Caribbean begin their work, it will attract other successful businesses and investors."
The Prime Minister's remarks came following the official opening of the Fishing Hole Causeway in Grand Bahama on Friday, June 26, 2020. During his address, the Prime Minister spoke about a number of capital works that are taking place or poised to begin in Grand Bahama, which should provide jobs and revive the economy of Grand Bahama.
"Residents of Grand Bahama can look forward to even more capital works this year," said Prime Minister Minnis.   "Works continue on the Rand Memorial Hospital and we have allocated $21 million for improvement.   Work at a cost of $4.5 million is now proceeding on 15 government schools -- one of the largest school restoration projects.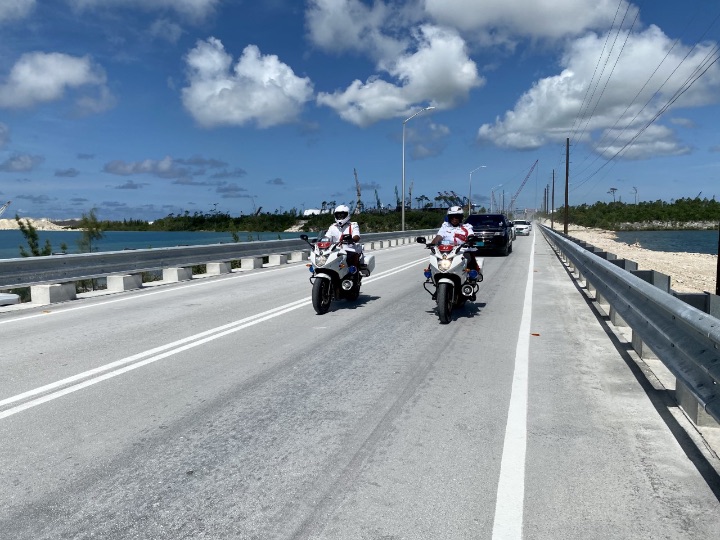 RIDING ON THE NEW AND IMPROVED BRIDGE – Prime Minister the Most Hon. Dr. Hubert Minnis and his convoy got an opportunity to ride on the improved Fishing Hole Road bridge, following opening ceremonies on Friday, June 26, 2020. (BIS Photo/Lisa Davis)
"We will continue the government's Small Home Repair Program that has in five months approved approximately 2,000 residents' homes and has distributed over $3 million. The government has recently approved work on the McLean's Town Administration building and the Ministry of Agriculture building in downtown, Freeport.
"The Ministry of Works will also commence a major renovation of the Post Office and commence a major road restoration project in East, Central and West Grand Bahama. We are also committed to finding a long-term solution for the Grand Bahama International Airport."
Speaking to Reporters following the opening of the causeway, the Prime Minister said that he's confident that all of the capital works planned for Grand Bahama will be completed before the end of his first term in office.  "I have a Minister of Works who has gone through the entire process, they've done all of the tendering, all of the scoping and we're ready to move," said Prime Minister Minnis. "You would be shocked with the number of capital projects that would be coming out very soon. We think that it would help to boost the economy, it would help to create job opportunities for individuals.  And of course we continue to invite foreign investors, because they play a part also.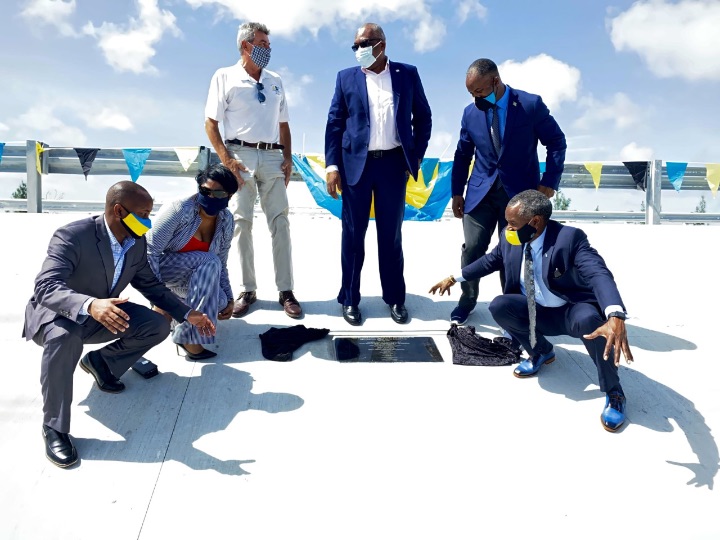 PLAQUE UNVIELED – During the unveiling of the plaque at the Fishing Hole Road Causeway, Prime Minister, the Most Hon. Dr. Hubert Minnis (3rd right) was joined by Minister of Works, Desmond Bannister (right); Minister of State for Grand Bahama, Senator Kwasi Thompson (left); Minister of State for Disaster Preparedness, Management and Reconstruction, Iram Lewis (2nd right); Parliamentary Secretary in the Office of the Prime Minister Pakesia Parker-Edgecombe (2nd left) and CEO of All Bahamas Construction Company, Wolfgang Geiger, following the official opening ceremony on Friday, June 26, 2020 in Grand Bahama. (BIS Photo/Lisa Davis)
"We are very confident that our economy will still continue to grow, but we are challenged by the Covid pandemic that we see. It's not only affecting us, it's affecting the whole world. But in spite of that, we continue to press forward."
Prime Minister Minnis pointed out that the official opening of the causeway is in keeping with the government's commitment to improving Grand Bahama structures and restarting its economy.
"Today marks the end of a long and difficult chapter for the residents of Grand Bahama, especially those who reside in West Grand Bahama," Prime Minister Minnis said in his address during the official opening of the bridge.  "The Fishing Hole Road Causeway connects West and East Grand Bahama Island and is the main access route between the West Grand Bahama communities and Freeport."
Dr. Minnis noted that the original contract for the bridge was signed in 2015, with a set time of 16 months, at a cost of over seven million dollars. With a change in scope, the project required additional funding.
He noted that the project had to be pushed back due to a combination of a number of events, including the passing of three major hurricanes (Matthew in 2016, Irma in 2017 and Dorian in September 2019) through Grand Bahama.
"Unfortunately, residents were left to suffer through very difficult driving conditions and prior to Hurricane Dorian, the Fishing Hole Bridge was substantially completed and authorities were planning to officially open the bridge in September of 2019," said Prime Minister Minnis.
"After witnessing the effects of Hurricane Dorian, we decided to replace the asphalt roads with six inch thick, re-enforced concrete rigid pavement and the side slopes and shoulders with six inch thick concrete, making the whole structure more integral and climate resilient for future storm events.
"Today, I am pleased that residents have a modern designed, resilient, concrete trestle bridge, spanning 900 feet across the Hawksbill Creek, with a lifespan of 50 years, sitting 12 feet above the main sea level and able to withstand hurricanes up to Category 5 intensity."  The Prime Minister said the final total cost of the Fishing Hole Road Bridge was $9.2 million.
As the renovation and improvement for the Fishing Hole Road Bridge has been completed and will finally be opened for public use, Prime Minister Minnis, in speaking with reporters, admitted that the island of Grand Bahama has other problems that needs addressing, including the issue of the airport, which was destroyed during Hurricane Dorian in September, 2019.
"We are still in discussions with that to see how we can purchase that and move forward with some Public/Private Partnership so that we can expand Grand Bahama's airport and do what's right for their economy," he added.
Asked about all that Grand Bahamians have been through over the years, with frequent hurricanes, the most recent being Hurricane Dorian, and a struggling economy, Prime Minister Minnis said that Grand Bahamians are a resilient people.
"Unfortunately, Grand Bahama had entered a recession before the world had entered a recession, having been challenged by a number of hurricanes. But in spite of that Grand Bahamians remain strong, they remain encouraged and they continue to press on for the rebuilding and expansion of their island. And they can be assured that the Government of the Bahamas will be there for them and for the entire Bahamas."