NASSAU, The Bahamas – Public school students will be the beneficiaries of LENO's $60,000 donation to the Ministry of Education (MOE) for tablet devices.
LENO, a Bahamian-owned financial services firm, kicked off a national campaign, Thursday, September 10 -- an effort to equip every child in the Bahamas with a virtual learning device.
The Hon. Jeffrey Lloyd, Minister of Education, described it as a "signature" day. 
He said, "It is a great joy and honor that you would have made us one of the beneficiaries of your generosity and kindness.  As you indicate, every child in the Commonwealth of The Bahamas today needs a device.  It is simply not an option anymore.
"There are unfortunately thousands who do not have such a device. This, therefore, is going to fill a very important need in our country. Our estimate is somewhere between 10,000 and 15,000 Bahamian students across the system would have a deprivation that is in desperate need of satisfaction."
Senior government officials witnessed the cheque signing and ceremony held at the MOE.  Permanent Secretary, Lorraine Armbrister and Marcellus Taylor, Director, were among them.  Sean Longley, Founder and CEO, represented Leno.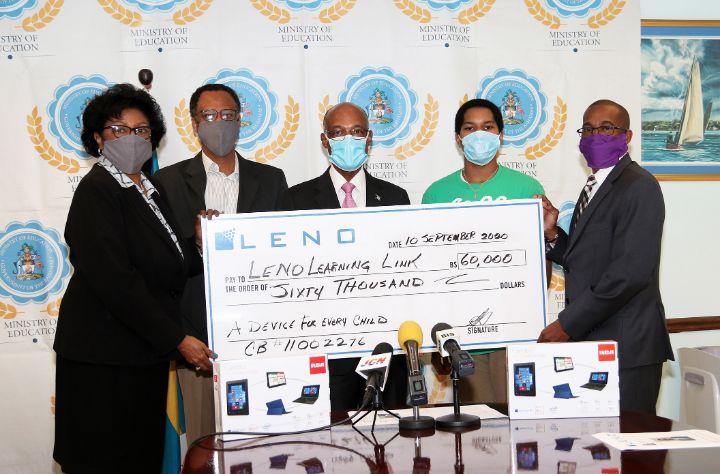 L-r: Lorraine Armbrister, Permanent Secretary; Dr. Marcellus Taylor, Director; the Hon. Jeffrey Lloyd, Minister of Education; Ajani Moss, student and Sean Longley, founder and CEO, LENO. (BIS Photo/Patrick Hanna)
Minister Lloyd expressed appreciation to the team and board of directors at LENO for their corporate sensitivities. 
"Yours was an initiative that prompted an outpouring of generosity in the Bahamian society in respect of this very critical time in education in the development of The Bahamas."
He said it is important that LENO would step forth as a corporate environment with such a gesture, emphasizing the importance of the entire Bahamas participating in the educational experience. 
"For too long, as a social construct our people have deferred the responsibility of education to the government, to the MOE.  Again, as our leaders would say this is everybody's business. It has become more prominently emphasized today because our parents would have to play the role in terms of the supervision of their children."
He encouraged parents to purchase a device, which, essentially is their school. 
"Our learning resources are on the device, their connection with the school and the school with them is facilitated through this device and all other platforms and educational resources are available through this device. So, this now has the exponential capacity to facilitate an educational experience for our children unlike any time in our national history."
Mr. Longley said in celebration of its 10th anniversary, LENO has pledged to lead the national effort to put a device in every child's hand.
"We want to show the public that we are going to start it off. We are hoping that other organizations would take a step forward and say let's assist.  That is our goal."
Ajani Moss, a 10th grade student of Queen's College, said the campaign is an opportunity for students to give students who do not have internet in their homes a fair chance to complete their work and contact their school.
Corporate sponsors are invited to make deposits toward the campaign at Commonwealth Bank, Wulff Road.